Combine the meringue and egg yolk dough (final dough)
Finally, I will combine the meringue and egg yolk dough.
First, tighten the meringue foam that was waiting in the refrigerator.
(The meringue that has passed the time has become unstable due to water separation. Foam tightening is performed to restore the state to the original stable state.)
⇩ Place the whisk vertically in the center of the bowl and mix as it is.
Please use the image of adjusting the bubbles, not the image of foaming.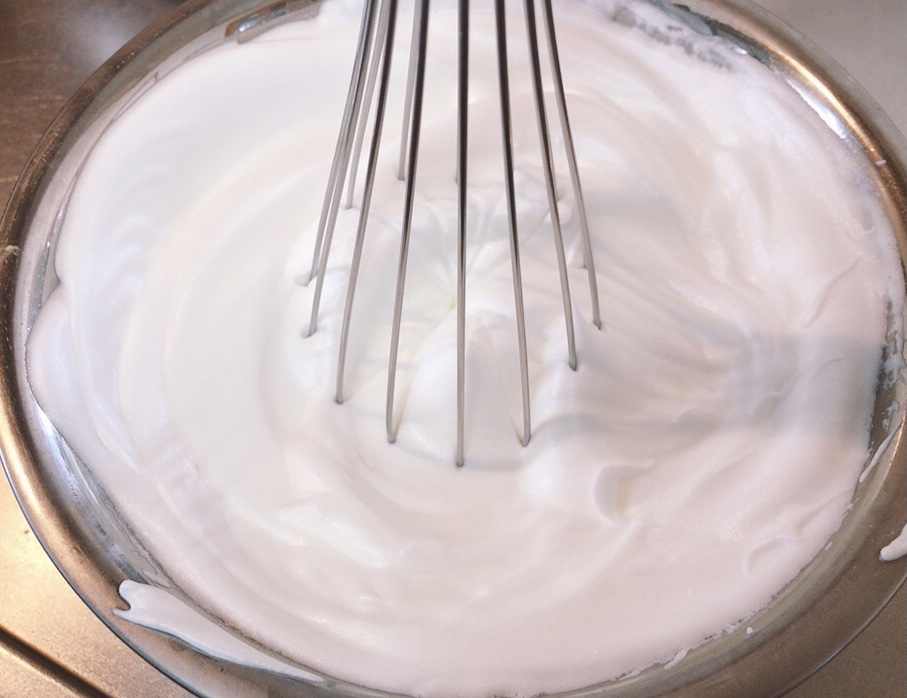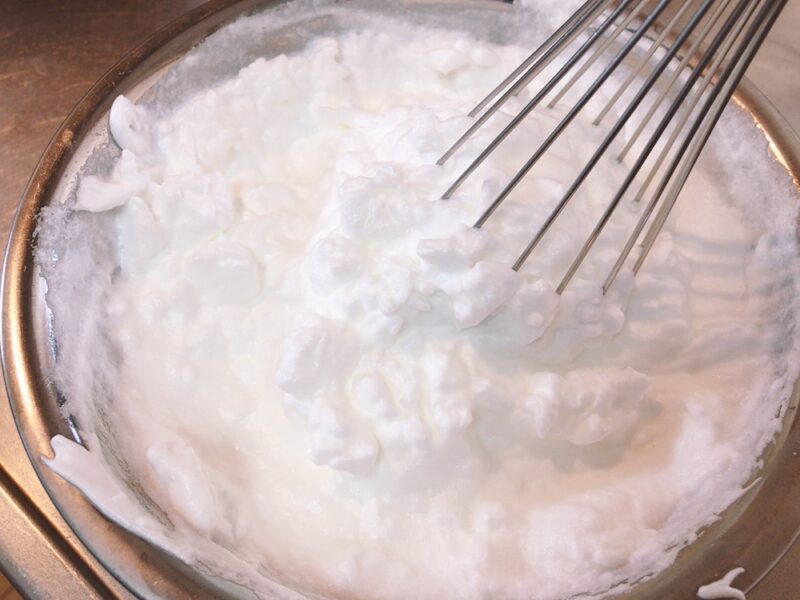 ↑ At the beginning of mixing, I'm worried about it, but it's okay!
As you mix, the hand holding the whisk becomes heavier.
(It's not because of your mind, but the weight and resistance in your hands. If you feel light and moody, you stand too much at the meringue making stage.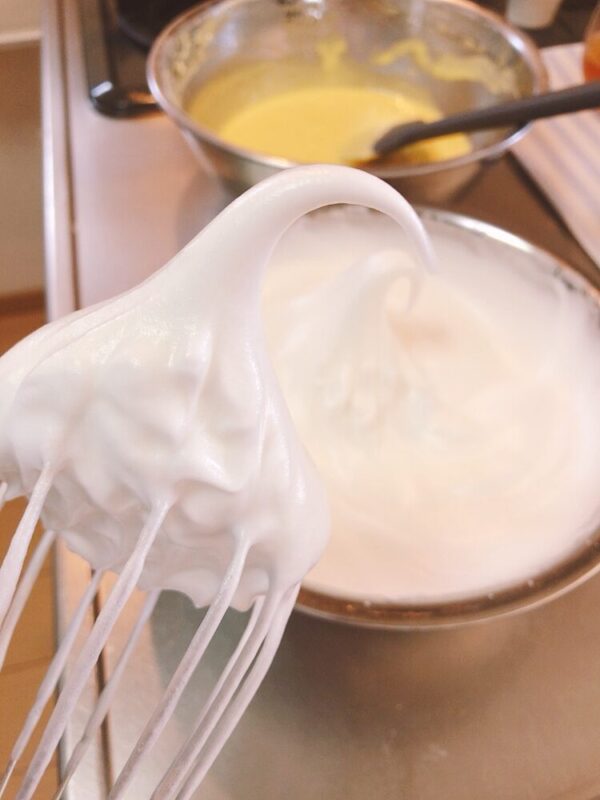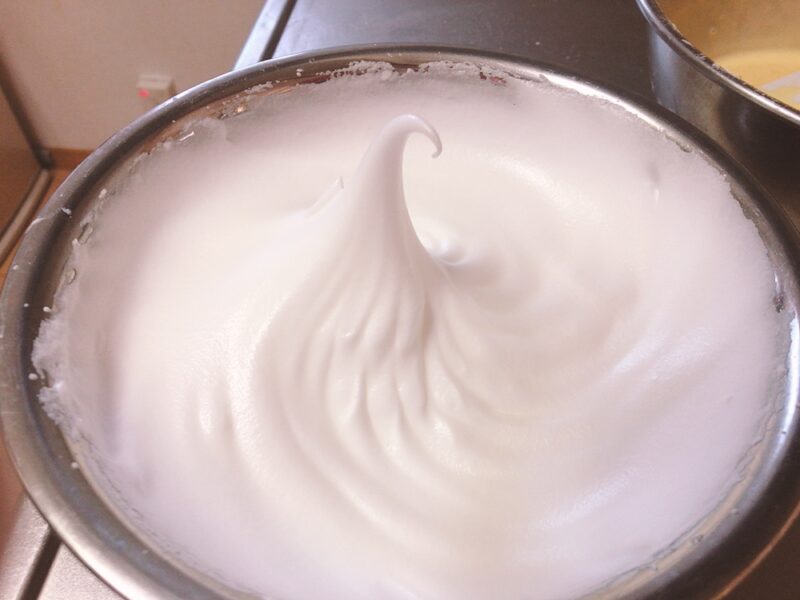 After tightening the foam, the meringue will be slightly looser and more stretchy than the initial meringue.
⇩ Put the foamed meringue in a scoop of egg yolk dough and mix it with a whisk.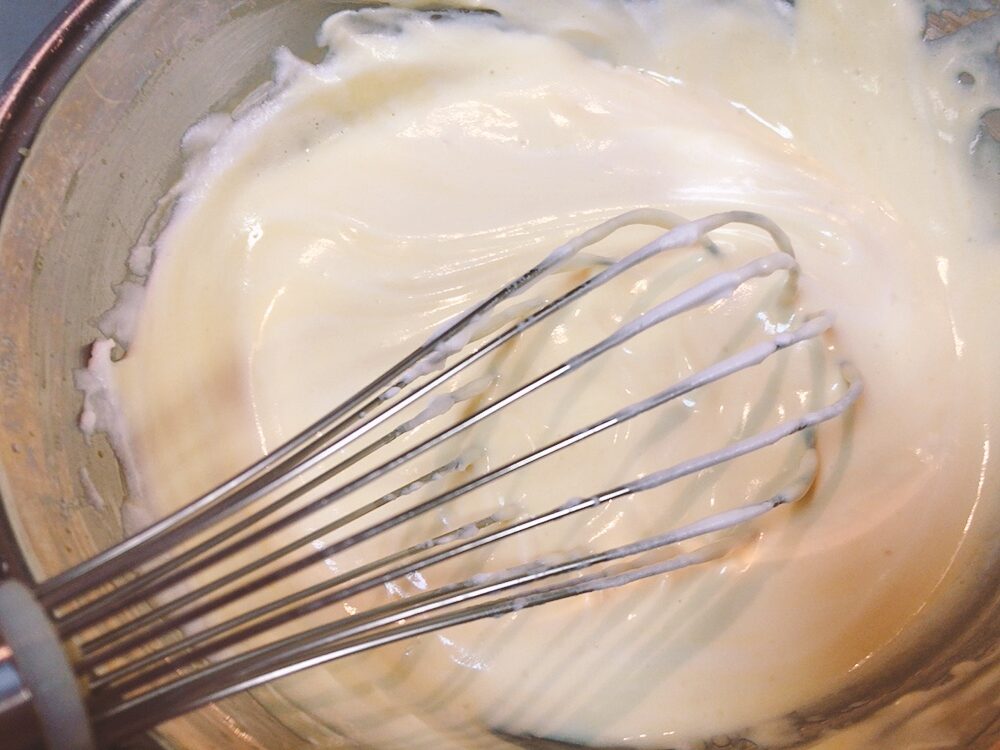 The meringue at this time is okay. Don't be afraid to mix.
Once mixed, add the second meringue, and while turning the ball with your left hand, blend the meringue with a lateral movement that moves back and forth between the edges of the ball at the top of the ball.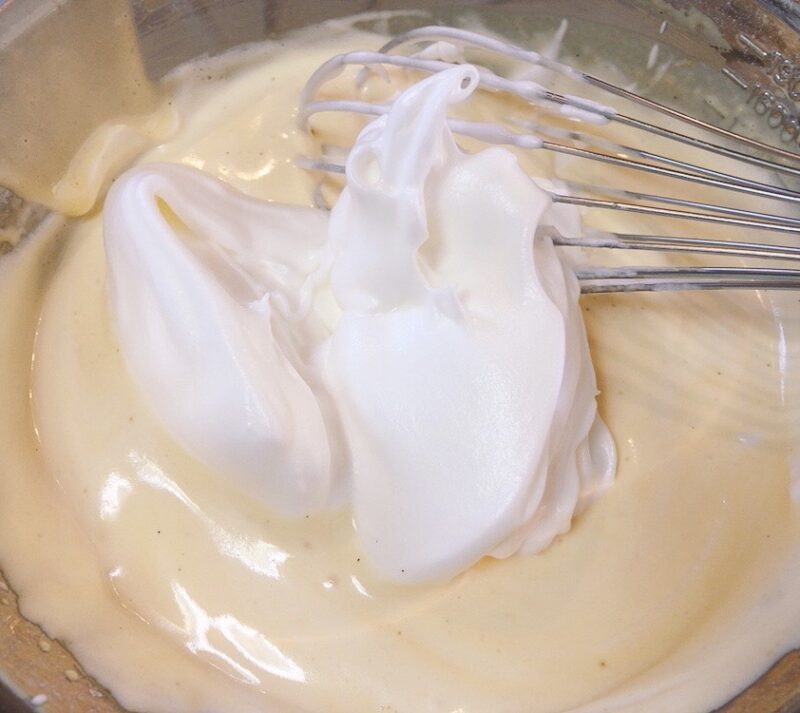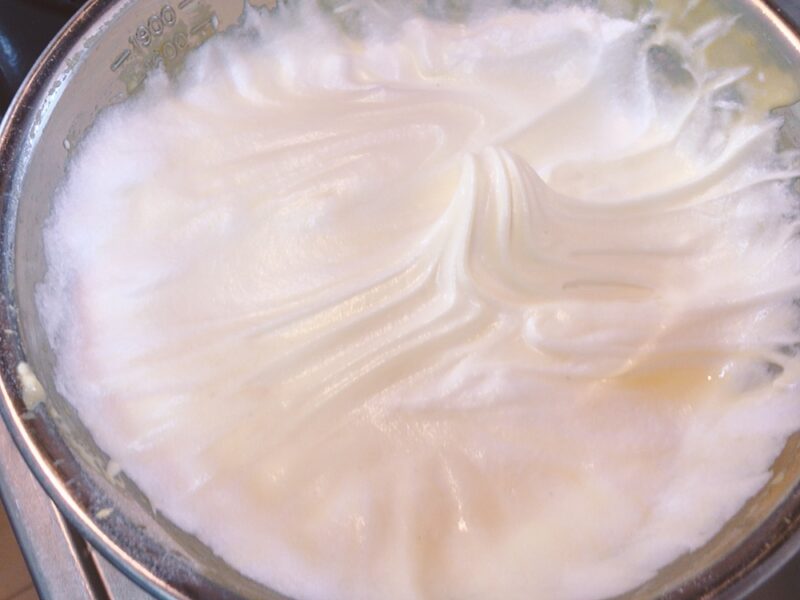 ↑ Once you get used to it by mixing it sideways, move it up and down to match it with the yolk dough that has accumulated underneath.
(Be aware that there will be no meringue lumps at this horizontal mixing stage)
⇩ Scoop the bottom egg yolk dough with a whisk and drop it from between the eyes of the whisk (vertical movement)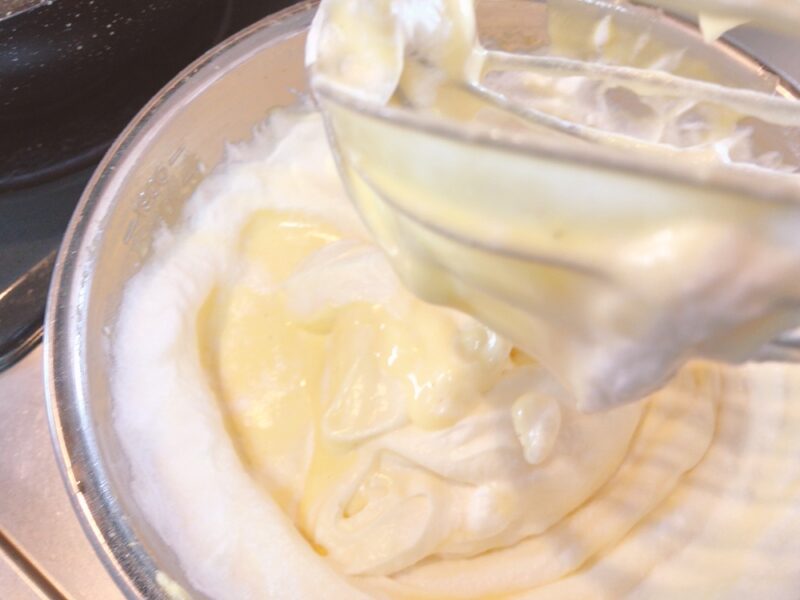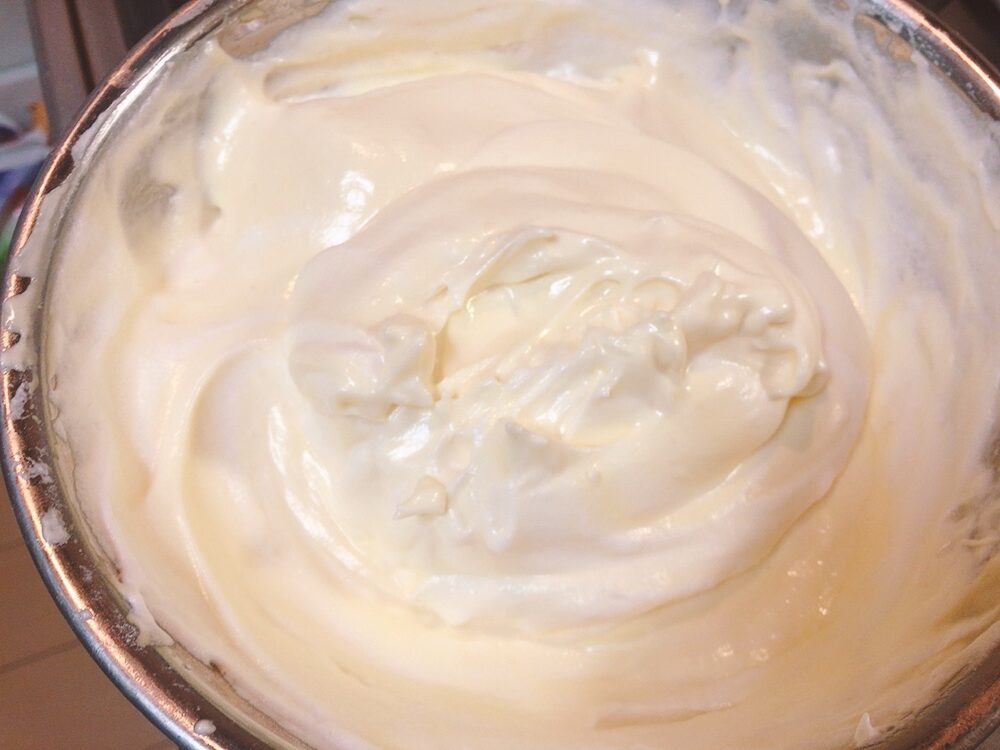 After doing this operation about 3-4 times, add all the remaining meringue.
⇩ After adding the last meringue, mix using horizontal movement ⇩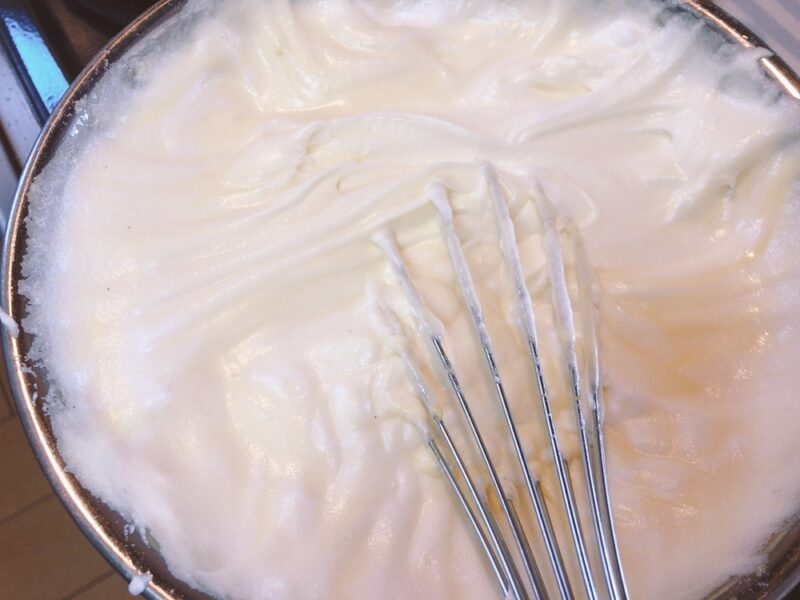 ⇩ Vertical movement (scooping from the bottom and dropping) 3 to 5 times ⇩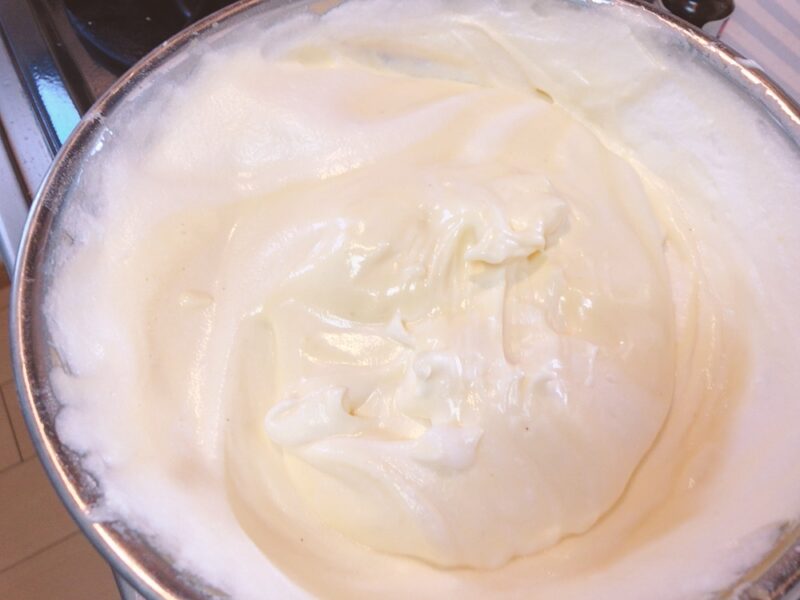 In this way, here as well, we will mix by horizontal movement → vertical movement.
When you reach this point, switch to a spatula and mix.
Insert the rubber spatula slightly diagonally from the center of the ball, scoop the dough from the bottom of the ball toward the edge, turn the wrist back when the spatula comes to the edge, and move the scooped dough back to the center of the ball. to go.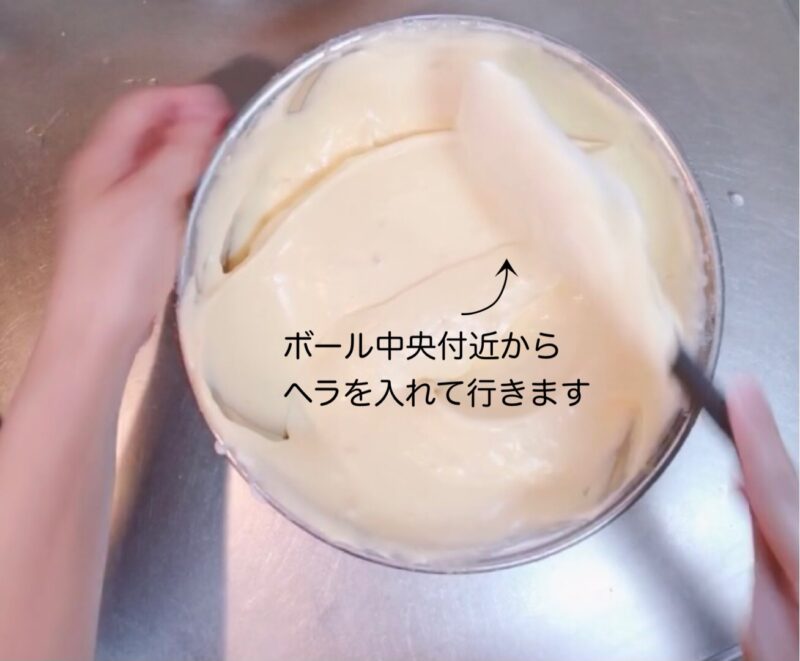 ⇩⇩⇩⇩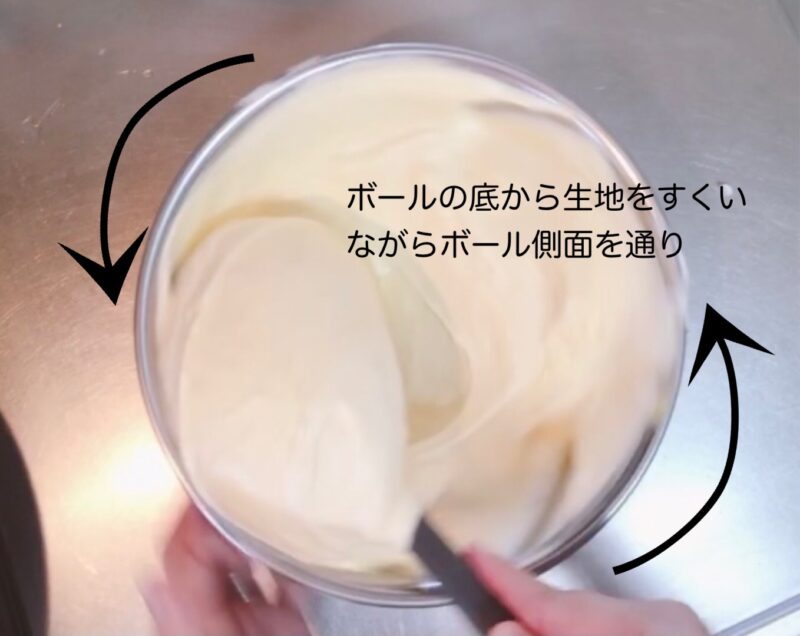 ⇩⇩⇩⇩

⇩⇩⇩⇩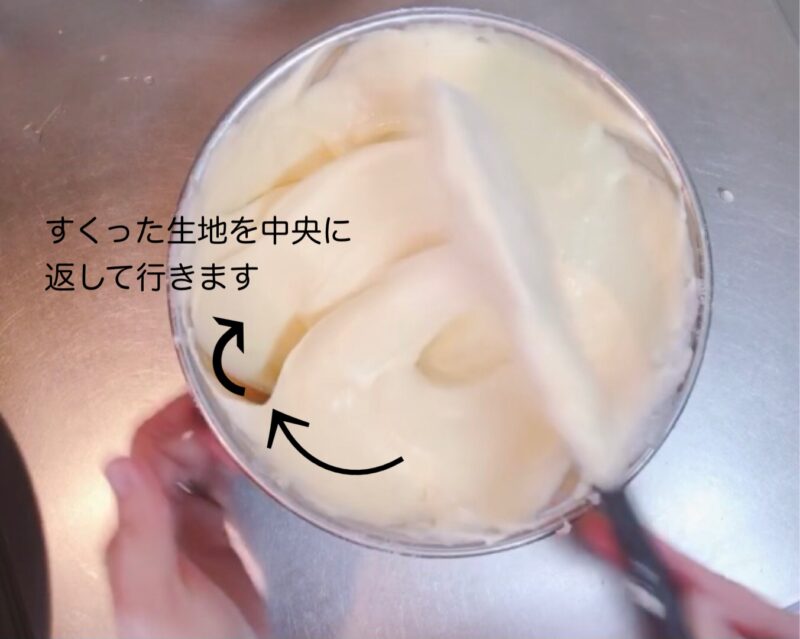 Do this at the same time while turning the ball toward you with your dominant hand and the opposite hand, and mix until the dough becomes glossy.
⇩ Finished final fabric ⇩